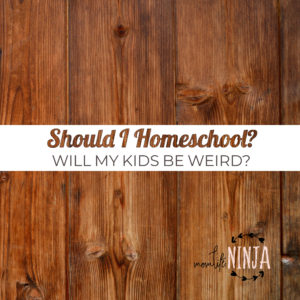 I'm just gonna go ahead and give you the quick short answer to this – YES. Your kids will be weird. If you decide to raise your children differently than the majority of the population than your children will end up different in character, in maturity, in understanding of their world. They will/may be different than every other kid.
I'm not saying your kid will be better than other children, I'm saying they will be different. With basic psychology- the nurture aspect will affect their outcome in life. If a child is raised in a harsh environment, it will affect how a kid deciphers their world vs. raising them in a loving environment.
The nature aspect plays a part too. Take for instance- ME. I am an introvert. Always have been. Always will be. I went to 9 different schools before college. I have been in plenty of "socialized" situations that should make me a more "socialized" individual. Yet, because I am an introvert- I am still quiet and I don't function as well as an extrovert in social situations. Does that mean there is something wrong with me? You might think so, but I don't think so. I'm just different than you. Something the world says should be a good thing, except, when it makes them feel uncomfortable because they don't understand you due to that pesky original fact that you are actually different.
Children who are homeschooled will be different because they will be socialized differently. They will mature at different rates and in different areas. They will be desensitized to society, with all it offers, at a different rate and among different situations. They won't be like you when you went to school. They will not be like other kids in public school who learn adult-related things earlier in their life. They will also not be like the homeschooler down the road who unschools their kids. Your kids will have their own uniqueness and just because it doesn't look like the majority of other kids at that age, among their peers, does not mean that your child is any less off or worse than or cheated from what other kids in society are doing.
Now, I am all for socializing my kids. However, unless your kid lives under a rock completely alone, they will learn how to interact with those around them. It's kind of built in most of us. I can't say all, but most. Kids learn by imitation. Most school curriculum is designed in this way. Teacher does-then child repeats. If you watch a toddler or baby grow, you will notice how they pick up on their environment. Imitation of those around them (socialization) is how they learn to talk, walk, play-peek-a-boo, learn to chew their food, etc. (If a dog is around, you might see your toddler carry something around in their teeth.) They learn by being around others. Socialization happens and there is no rule that it can only happen if a child is around people outside of the home. I believe socialization happens best in a loving home, with parents emulating love toward themselves and others. When you establish that foundation it will develop as they mature and age away from you into adulthood.
I believe God made us for relationship so therefore, I believe relationship is part of our nature. (even my autistic son, enjoys relationship and socializing) But socialization happens continuously throughout one's life. It can also change among different groups of people. It is a process we develop and learn throughout our lives. So, I don't need my kids to conform completely to the rest of society by the age of 12. There is time for them to grow and learn. They will be doing that for the rest of their lives. So, I would much prefer for my child to attempt to learn who they are first before they feel guilted into trying to conform to what other people whom I don't know, say they should be.