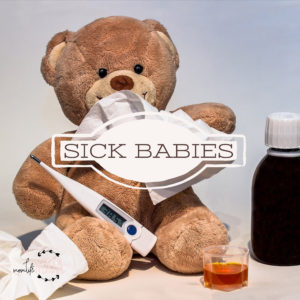 Nobody likes sick babies. At least most of us don't. If there is ever a good side to a child being down with the sniffles, it's that they sleep and chill out a little more. They also like to snuggle, which I'll be honest, I kinda enjoy with the little guys. Even though It can be frustrating because there is always so much to do, it does force me to sit down and snuggle just a little bit more.
But when a baby is feverish and vomiting, no one enjoys. That's been my last couple of days. A sick baby. And momma always feels so bad that I can't make any of it better. It seems hardest with the babies because they can't understand why they can't have that drink or that food item when they want to eat. But you know you have to limit some of it from them, at least until they can keep the food down. I don't deny completely to my babies/toddlers. I deal with the mess even if it comes back up five min. later. However, I just try to limit the amount and try to use clear fluids in case the place they vomit is the carpet or furniture.
Vomit Master Pro
I've been through so much vomiting, that it doesn't bother me much anymore. I've stopped freaking out when it happens and just clean it up. It also helps that I've invested in a handheld carpet cleaner and I get my money out of that thing. Vomiting randomly and unexpectedly has become a normal part of life for me. I know that if one kid gets sick with something its very likely someone else in this house is gonna catch it and I've learned that is almost ALWAYS the truth with a young baby in the house.
Everyone Risks Getting Sick with a Baby
I've tried to warn my kids that if the baby is sick, DON'T KISS HER. They have learned that lesson more than a few times over, but I've witnessed my kids not caring if they get sick. And I don't think it's because they want to be pampered themselves from being sick. I have watched them making sure they give the baby EXTRA love when she doesn't feel well and they risk the possibility of being sick themselves. My momma's heart loves that about them. I love that they want to give her extra hugs and love if she's feeling crummy. They don't stay away from her when she is sick and feverish. ( I am more strict though if its a high fever!- this wasn't the case this time)
It's one thing for me as the momma to risk getting sick from the baby, because that's a momma's job. But it's a different thing when everyone else risks it because they want to make her feel better. They want to try and make her smile. And they want even more so to kiss her little feverish forehead because they feel sad that she is sick.
Sick Families Still work together
I could get upset about it, especially if I get sick and then have to take care of FIVE sick kids in addition. However, I've stopped worrying so much about it. I usually keep my brood home anyway from going anywhere when one is sick until I'm sure no one is sick. To ensure that we don't infect everyone we know. I've also realized that even when sick, my older kids still help me out with the little guys and so we work together.
Thankfully this time, only two kids got sick and it didn't spread any further. It was an easy few days. I very much dislike any of the kids getting sick. But I'm praising God it was a 24-hour bug and we are on the mend with no signs of someone else feeling icky. I hope you are all feeling well and I'm praying this upcoming holiday season is a germ and virus free one.