In the past few weeks, my daughters have been interested in sewing to make Christmas presents this year. My Six year old has been really excited about making gifts, so I started her out by learning how to make pillows. Focusing on the straight stitch.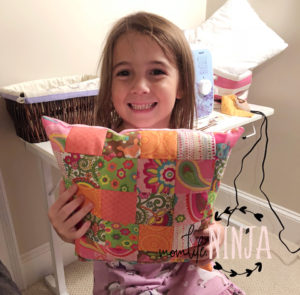 Now that my six year old has been excited about sewing, my 12-year-old has found a newly revived interest in learning more with her machine.
Our sewing machines were originally in the homeschool room. But since we are using them more lately, I decided to set up a little-dedicated space so I can spend more time teaching them. Currently, it is a temporary spot, but for now is working out better than the cramped space we had in the homeschool room.
New Temporary Sewing Room
My mother bought me this Brother sewing machine for my Engagement/Wedding present over 15 years ago, and it is still working well. My husband bought me a Singer machine a few years back, but I had many problems with it so I stopped using it and came back to this one. So far, Brother machines haven't let me down.
I also bought a cheaper Singer for my daughter as a beginner sewing machine, but again, constant problems. So I ended up getting rid of it and getting her this Brother XM2701 instead. It is a great beginner machine. I would recommend it for a beginner sewer- age 5/6 and up to adult. I've also used it myself a few times and have yet to have an issue.
I think if I ever decide to upgrade my machine, I may be sticking to the Brother line. However, I don't think I'll ever get rid of this one- at least for a long while. ( FYI- I don't make money on my blog, so I'm not writing this as an advertisement, it's just from personal experience. ) I'm not saying all Singer Machines are bad, but I personally haven't had much luck with them lately.
Now that we are sewing more, I'm interested to see if my girls stay interested. I have a lot of neat ideas to hopefully try out with them. It's been good for me too. I haven't pulled out my sewing machine to make much in the past few years. So it will be nice to see how much I remember from my younger years.
I'm interested to see if this goes anywhere… ? Maybe not now, but who knows in the future…
(I mean.. Look at this cute little future Sewing Pro)