The children have already started back with their schoolwork and Operation Clean-Up and Clean-Out has commenced. (I finally put away the last of the Christmas Decorations!!!! It's half-way through the month, but still – go me!!)
Over the past few months, I've been busy sewing whenever I can fit in a few minutes. (the cold and rainy weather has given me extra opportunities lately! and I'm not a big fan of golfing in the cold and rain) I've made a few baby quilts for friends and family who have recently had new arrivals. I really enjoy making these baby quilts. They are quicker and easier to sew up than full-sized quilts. You also get the gratification of finishing a quilt a lot quicker. And it's a pretty awesome feeling when you finally finish a quilt.
Here are a few baby quilts (stroller size) that have already have recent new owners. I think they are too cute. (Top blue quilt is a simple HST pattern, bottom pink is a hidden 9 patch)
I also have a few baby quilts already made, waiting on their New owners to arrive. Here is a small taste of one I really loved.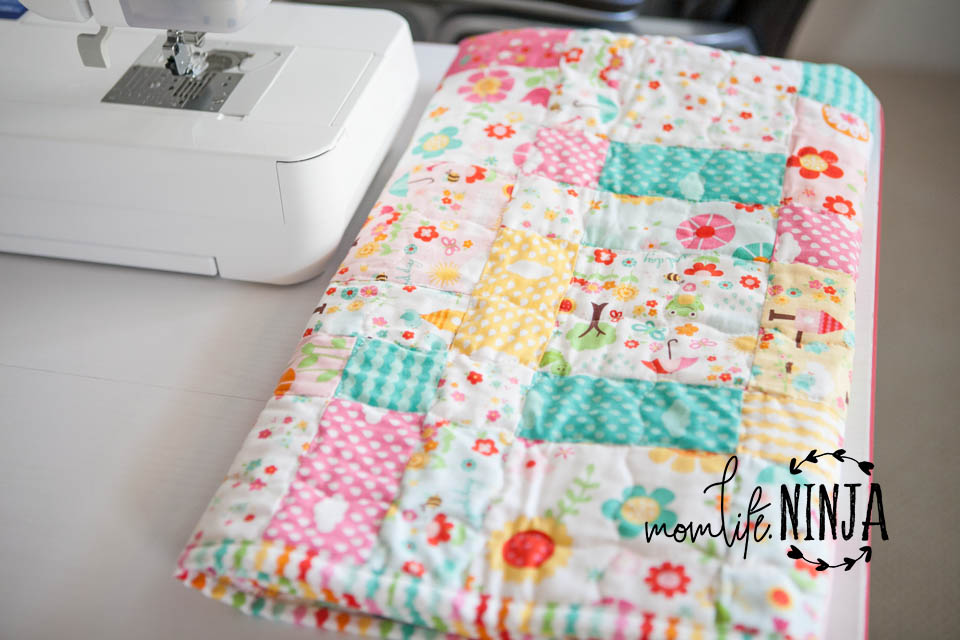 Other than baby quilts, I finished this quilt right before Christmas and it has been one of my favorites so far. (technically the pattern I used was a "crib size", but It works as a nice lap or throw size for me.) I Love the colors in this quilt and I'm a little addicted to the pattern.
The piecing took some time but I spent a few late evenings while watching tv with my husband sewing them up. It is not a complicated quilt, but it did require a good amount of time. I'm actually considering making this same pattern again in different colors.
This pattern is called Jane's Ladder and you can find it on ModaBakeShop.com. They have lotsof free patterns on their site.
I also just received some new fabric and I got another baby quilt just begging me to find a new owner to make itself for. Someone needs to have a baby girl and soon!!