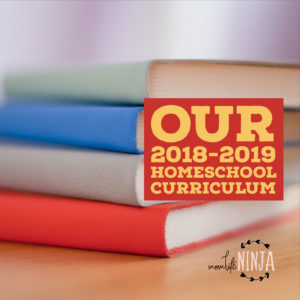 Over the course of our time homeschooling, I have tried a variety of homeschool curriculum. Over the past couple of years, I have come to prefer the online/Video lesson school method. For me, the best part about this method is related to being pregnant. (I'm not currently pregnant.. just FYI). When I am pregnant, I am so incredibly nauseous, I can barely speak. The movement of my neck muscles causes me to dry heave. I also spent many days lying on the floor teaching my kids from the overwhelming need to lie down. (I have low blood pressure while pregnant)
Video lessons are also great when you have a variety of students with different skill levels and grade levels. It was hard for me to spend an hour helping a struggling learner with math while also keeping the other kids on task and at the same time a toddler or baby occupied. It is still doable if you have to, but for my own sanity- video lessons have been a HUGE tool for me to utilize.
There are a few downsides to video lessons. The first being the price. (but It is cheaper than private school!) I also believe children learn better with a teacher or person in front of them since children use different parts of their brain when watching videos. But, the lessons are short and they still have breaks in their 20 min videos where they have to apply what they are learning, so I feel they are still learning and getting the information into their brains. I have watched many of the videos lessons myself and the teachers do a really great job at teaching the lessons, so I feel they are getting what they need. Although, with video lessons and young ones, I still need to be consistently available to help them out. The older kids also still need me for accountability. So, video lessons do not completely free me up to do whatever I want during the day, but I am able to move around more. I would definitely recommend them. (more-so for older kids than the younger ones)
So- What do we use?
Over the past few years, we have been using Bob Jones University (BJUPress) homeschool curriculum. This year we will have all of our kids utilizing them. My Kindergartener did well with the videos last year (I don't push official learning with my kids in Kindergarten, but I provide them if they are wanting to learn), so we will attempt video lessons for first grade. I am not sure how it will go for my 1stgrader (each kid handles video lessons differently) but I think it will go ok- at least at the start. I may have to stop and teach the lessons for her. However, I can still have her watch the video lessons 2-3 times a week while I teach the other days. It will still provide me with a break, even If I have to teach more with her. (My girls seem to do better with more human interaction, while my boys seem to do better if they can have control of their own learning.)
All four kids will be utilizing BJU for Bible, Math, English courses(including writing and reading) (handwriting for younger two), Science and Social Studies. Outside of that, I am including Two AOP (Alpha Omega Publishing) elective(online) courses in Small Business and Microsoft Office (Word and Publisher) for my 9thgrader the first half of the year. The second half will be in Communications/Public Speaking and a continuation of Microsoft Office (Excel and Access). He mentioned an interest in business, so we will be focusing him on this for the time being.
For my 7thgrader we will add an elective from AOP in Keyboarding for the first semester. We are still discussing next semester, but will most likely be a health program. She will also be doing "Home Ec." with me. She really enjoys cooking, so we will be learning how to create a well-balanced meal plan, find recipes and make grocery shopping lists. Then she will be in charge of making our school lunches each day. (she actually wants to do this!) I will also spend some time teaching her more sewing skills and anything else she wants to learn related to Home Ec. this school year. (I'm letting her lead what she wants to learn this year)
My 3rdand 1stgrader, don't have any official electives. However, they are required to take Typing Tutor 2-3x a week. This will be the 1stgrader's first year. All of my other kids have learned to type. But I still make the older kids practice every now and then, to keep their speed up.
For music, I am trying a new DVD learning system called Chord Buddy. Normally I left music up to my husband to teach, since it is his area of expertise, but he has been pretty busy lately so we will give these a try. All four kids will be attempting to learn the guitar this year. I may also learn a little as we go along.
Also included this year, I added a new fun learning tool- MEL Science. I just bought the monthly science kits. They do not go along with the kids BJU lessons, but it looked like fun. So we will be giving it a try this school year. I plan to do at least one activity a week. I will let yall know how that goes. My kids don't have a lot of excitement about science like I did, so It is my hope that these might spark some more interest.
Golf- our kids will continue taking Golf lessons this fall and spring. They all seem to enjoy it, so for now- we are sticking with it.
And that's about it for "official" learning this school year.