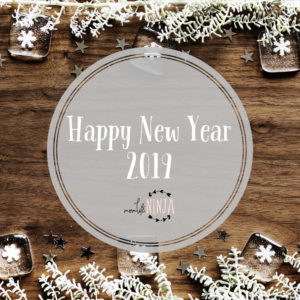 Happy NEW YEAR 2019
My January has started out just as busy as the last couple of months. Isn't it funny how things can seem stalled and all at once EVERYTHING seems to happen. I thought my holidays would be a nice refreshing break, but alas- Life likes to happen when you are busy making plans. (Allen Saunders?)
I did get a chance to spend a day and relax for our 16thwedding anniversary. We didn't have an opportunity to get away this time, we are still waiting for our puppy to get all of her shots. And she needs those shots for us to leave her with anyone, but it was nice to spend a day without kids. It's always nice to enjoy a HOT uninterrupted (with no dishes to clean) meal every once in a while.
Over the holidays, I've been spending my writing time doing some brainstorming.  It will be about a year in February since I put my blog up and I've been wanting to reevaluate and decide what I want to do with it.  I wanted to have a few goals set up for myself. It helps me stay consistent and since I don't blog to make money- that can be a bit of a challenge.  
Most blogs are geared toward making money and trying to sell something you might not need. Not all are, and I'm not bashing people who are trying to make a living, but for me, I have a slightly different mindset with my writing. I mostly want to encourage moms and provide some ideas that have personally worked for me. However, I still don't want to make money off of my blog, so it creates different challenges for me. With that said, I am currently working through a few ideas for this upcoming year.
My biggest goal, this year, for my blog- is to actually make some goals. Goals keep me focused rather than flying by the seat of my pants. Hopefully, I'll get better organized and more efficient. Another one of my goals this year is to do a few giveaways, so as soon as I figure out how that works, I'll will be sure to let you know. And who knows, While I'm busy making these plans- Life could always happen.
I hope you had a wonderful Christmas Season Break and/or Vacation.  I'll be back soon and hopefully implementing a few of my new goals. 😉