One of the reasons I decided to open my blog back up, was because I have been running into more and more families that are continuing to homeschool through this pandemic, and many of them are feeling overwhelmed and in need of encouragement.  So, I thought I would share a few things that I have picked up over the years.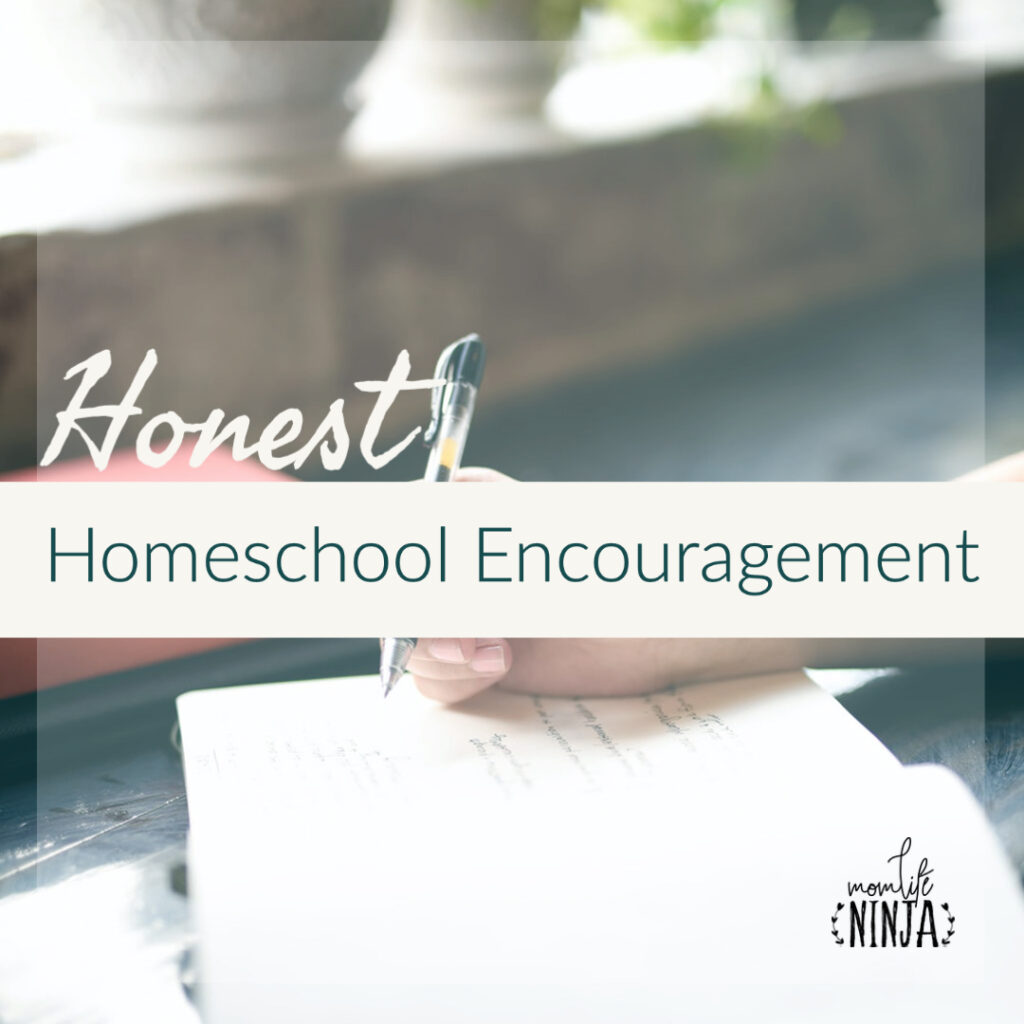 First of all, I can't fully speak to those who are following a public/private school schedule with another teacher or school system that is in charge. Some of it may be applicable, but not all of it will be.
Second of all, I may say encouragement, but there is an aspect that I will have to be blunt.  It is not a soft and easy "encouragement". It is more of an honest, reality-type of encouragement.  Homeschooling is work and with more children to teach, the work will pile on. Not every day will go well.  It's to be expected.  
Honest Points of Encouragement
With that said, here are some of my points of honest encouragement.  (You can also check out my other posts under the title Homeschool in the menu bar)
1.  You CAN NOT be an expert at something you have just started doing.  It took me almost three years to feel more confident in my ability to homeschool and continue through it.   The first couple of years went HORRIBLY!  I even put my kids back in school for a year because I began to believe there was no possible way for me to adequately school them.  But the problem was my lack of confidence in what I was doing. 
 I also wasn't prepared for learning problems that we didn't know existed, and I had to learn that educating children is not as easy as I thought it would be.  Each individual child has their own problems and struggles, and I had to learn those are not my fault.  My children learn in their own unique way and I teach in my own unique way – it will take time to figure that all out and do it adequately.
2.) Homeschooling is Work!  I think every new parent that starts homeschooling has in their own mind what it should look like or what they WANT it to look like.  You need to manage it within the framework of what fits YOUR family the best. 
 I think the hardest thing for me to deal with, was that I was AFRAID of what it would look like.  When I first started homeschooling people had a lot to say about it.  Many made remarks about how my kids would be weird and improperly educated.  I learned to be ok with it when my children appeared to not know something, as well as other kids, seemed to know.  I had to remind myself about the many other things my kids were more efficient in and remember we have our own path to take.
3.) I've been homeschooling for ? years now. (I still haven't sat down to take the time to count). But, quite a long while now.  I will still tell you that I have days I want to quit.  There are days I want to cry.  Days I worry, days I struggle, days I have no earthly idea on what to do, to fix a problem.  I STILL have those days.  Because – its hard work.  
The difference though, in these later years versus those early years, is that I know and am more confident that we will figure it out.  The hard days will pass, good days will come, and by the grace of God, it will be ok.  I know that I will keep pushing through and working hard because my children are worth it.
4.) As a Christian, I will tell you that homeschooling and raising children is perhaps the most Sanctifying of work out there.  It has been in the raising and teaching of my children that I have had to come closest – face to face- with my own self.  My selfish wants, my own struggles, and my worldly mindset.  It has forced me to recognize and see areas of my life that need Christ and it is an incredibly painful process.  
However, it has forced me to my knees in prayer, pushed me to open my bible, and has caused me to seek God's face daily.  If you are not living in your bible, if your knees are not scuffed and scratched from prayer, it will only be more difficult to learn to sacrifice and change your life in the way that homeschooling will require you to do.
5.) Take a deep breath, relax a little, and find tools to help you homeschool.  There are plenty out there, and you will need to find them.  For me, video lessons and requiring my husband to help more in our homeschool has been the greatest help for me and my sanity.  It is not without its problems.  We still have plenty of those, but when I implemented these two things, I was finally able to breathe.  They have made all the difference.  
It can be online lessons, co-ops, tutors, grandparents, older siblings, – anything to help you homeschool and keep up with life.  Our children had to learn to be more independent around the house, and we require them to help with their younger siblings. 
6.) Lastly, at least for this post, Is another blunt honest point.  Homeschooling is hard.  Kids push back, they don't stay on schedule and they fight with one another.  The house gets a mess, laundry gets backed up, and not every meal is nutritious.  Appointments get missed, the dog messes in the house because someone forgot to take her out, and we clean up MANY spills each and every day.  My floors get sticky, my husband and I bicker, and I've gone many days without a bath or shower. 
My point – is that is our life.  It's messy.  It is frustrating and you may never have it all together.   Your home may never look like the cover of a magazine.  You will have to learn to get used to that and be ok with it.  You will also have to keep moving, never stopping and that will exhaust you.  This is the life you are signing up for.  It is not easy in the day-to-day.  But once you get used to it, once you have been conditioned to it, it will get easier. 
For Example
It's Kind of like running.  The first day you strap on those new shoes to go for a run, you will barely get the first block before you are winded.  Two weeks in, you start to wonder why on earth you started doing this in the first place. ( Do you really need to lose those few pounds?). It will be a fight, until finally one day many, many months later, you can run a couple of miles.  Then your time will improve, and eventually, you will run your first half marathon.  It will be much longer before you can run a full marathon. 
The point is, you have to get up each day. Strap on your big girl shoes and keep fighting for what you know is right.
My prayers are with you
My prayers are with you if you are winded and struggling. Just keep pushing and keep praying. God sends reprieve at times. He always does. You will find it if you keep your face focused on Him.