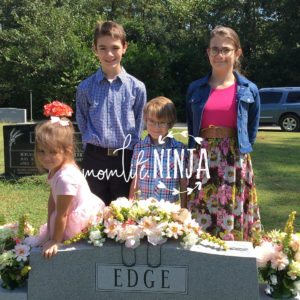 I sometimes find it difficult to write about the experiences I had with our baby girl Julianna.  I've had a few significant losses in my life, but the loss of a child affects you differently.  It's not that those other losses are not felt, but losing a baby is a very different type of experience.
After the loss of other significant people in my life, I've found that life has a tendency to keep moving. It's not that I don't think of them often, I do, but over time it becomes less and less.  I find myself thinking about them during special occasions, looking over pictures, or when life simply sends me a moment that brings back the thought of them.
Losing a baby, however, comes with its own set of rules.  Life, while it continues to move all around you, has its moments where it refuses to move on in your own life.  Unlike any other loss I've felt before, I live every day knowing, remembering, and feeling the loss of our baby girl.  It's not that I can't move on in my life, but her absence cannot be UNFELT. It is always there.  It will be 3 years in a short 4 more months and I still can't go a day without feeling it.
I would normally assume that in time, I will think of her less, or maybe feel her absence less.  However, having spoken to older individuals about their losses, I have come to the conclusion that the pain doesn't go away.  It's not that they live in mourning, but I have yet to see someone talk about their child that has passed without seeing a tear escape their eyes. I've seen men who have lost their child 50+ years ago cry in front of me when they tell me their memory.
However, with all of that said, I've found an incredible gift that only God could give out of the loss of our baby.  One of the most heart-wrenching experiences a parent could go through, God has used in a way that only He could make possible.  With the inability to UN-FEEL the constant tie to my child, I have realized that God has used that connection and pain in the loss of my child to keep my mind more focused on where my home truly resides.
If anything, the loss of our baby girl keeps my mind more heaven focused and my heart more Christ aware.  I don't want it to sound as though the Holy Spirit doesn't speak to me, but maybe the Holy Spirit uses our loss to constantly remind me even more about where I truly belong, and whom I truly belong to.
It's hard, even as a Christian, to navigate this world.  I get distracted A LOT in my everyday life.  There are SO MANY things that need to be done, that I can easily slip away from my relationship with God.  That still and quiet voice can so easily be muffled by the drumming of this world.
I can easily and HAVE easily lost sight many times in my life.  However, the gift I have after having lost our baby girl is that I have another strong reminder of where my home truly stands.  I wake up every day knowing of her loss.  Every time a person asks me "How many kids do you have?" my heart and soul aches when I tell them "five".  Those heart-wrenching moments, always bring me back to where my other children live and that thought, every day, is an incredible gift reminding me that I must keep my mind more heaven focused.
It still amazes me how God can use something so painful and use it in ways that can be a gift for me if I am willing to see it His way rather than my own way.  When I stop focusing on the pain and focus on Him.