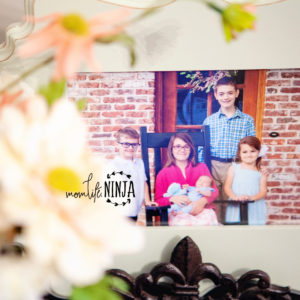 When I tell others about the way I choose to look at family, my dedication to homeschool and the simple fact that I just so happened to have named all of my kids with a J name, I immediately get pinned as some crazy alt-right Duggar-worshiping brainwashed fundamentalist nut.  As though I saw something, thought it was cool and blindly jumped in and followed without much thought other than "that sounds good".
There is this idea, that in realizing that I love my kids and would like God to bless me with more, that I am following some kind of "New trend" of the times like skinny jeans or America's resurrected love for farmhouse décor.  However, it is actually the designer family, aka the ability to choose how many kids we want that is in reality, the new trend. For thousands of years, men and women had as many kids as God would give since birth control wasn't necessarily a viable option for many.
This "new trend" (of having more children) as the world would call it, is what I see as a self-correction.  Watch the world at any time in history (especially within the church) and we have this great tendency to grossly overcorrect ourselves. Look at how birth control led to abortion rights. A gross overcorrection developing from a concern of poverty, sickly women and a desire to self-serve.  We have a tendency to go from one extreme to another. However, having more kids and homeschooling is not a gross overcorrection.  Patriarchy and Quiverfull movements, I believe are. Neither of which I belong to, even though others might assume so.
I'm not necessarily trying to harp on those who feel they belong to it, as there is a spectrum of different individuals who consider themselves part of these movements and I wouldn't consider all of them to be completely wrong.  However, we in Christ don't have a need to overcorrect, we just need to do what we are supposed to do.  Correct, don't over correct.
Coming to my conclusion to homeschool and my view of the family, actually came NOT from a TV special on Duggar ideology, but from the moment I found out I was pregnant with my first child.  It would be another very long, very painful ten plus years of reading my bible, arguing with God and constantly questioning every single aspect I and the internet could come up with.  All eventually leading me back to the same conclusion about God's view of the family as is found in my bible.
I have questioned pastors and read books by great theologians about their opposing views but none could answer them all without some kind of stretch away from their bible.  They came to their own conclusions, not because of what the bible said, but based it off of what they did with their families.  I didn't find this to be adequate enough for me.  So, I continued to search.  Continued to pray to God about it and every road eventually led me back here.
My husband has even said that he doesn't know anyone who has probably studied biblical womanhood and the family as much as myself.  As I have the unfortunate problem of my constant questioning.  He wonders sometimes why I don't argue the biblical view more strongly among Christian women.
My usual response is because I have found that my viewpoint can only be seen when a woman is willing to allow God into every aspect of her life and allow herself to be challenged by it.  I myself struggled and fought God for about ten years on this subject, how could I possibly in a few sentences convince a woman the reality of it.  It took years of changing and allowing God into different parts of my life (and I still have places that need to be changed), trusting and correcting worldly ideas that even the church has pushed itself.
It is not an area that I look at another woman and think "shame on her" for not doing it this way.  I don't spend my free-time judging other women on the matter.  Nor is it an area that I look at and say, "poor her for not seeing".  I don't pity the Christian woman who has everything she needs.  You have your bible.  If you are in Christ, you have a relationship with God.  IF you have a relationship with God you have the Holy Spirit. You are the one who has to make the decisions you do.
I understand that not every woman is handled the same, we all have different circumstances, but our circumstances should not be the reason we change what God wants of us. We should do what God wants in spite of our circumstances and then let God give the increase.
I want to encourage women, not discourage them nor make them feel bad about every choice that they make. I know, as a woman myself, that we have a tendency to burden ourselves so much already.  Many of the "today's" women (even among Christian women) would probably consider my views as non-encouraging or not empowering women and thus holding women back from the freedom they are capable of possessing.  I, however, don't see it that way.
If I saw a woman stepping outward to jump off of a bridge, I would NOT encourage her nor would I try to empower her to continue on with her decision, I would instead encourage her to come back off the bridge in the most loving way that I can possibly possess.  That is where I see women going in regard to the family and its desperate NEED to empower women in today's culture.  An overcorrection resulting in the corruption of the family and the detriment of a woman's role as was designed by God.  A role that was meant for her good, not for her to feel as though she were less than.
This is one reason why I continue to write.  I already know that I don't have it all together myself.  I know I will not make every perfect decision in life or in raising my children, but I also know that God encouraged me to write.  He has held my hand as I kicked and screamed so that maybe I can hold others hands as they struggle through the same conclusions. It is my greatest desire to encourage women to come back off the ledge and find their place with God.  Open their bibles and allow Him to take care of their life so that they may give back to God what belongs to Him.