The flu has caused me to get a little behind on writing a few blog posts. It has been my goal to post about twice a week while I figure things out. Being a SAHHM (stay-at-home-homeschooling-mom) I do have a lot of down times, but the problem I find is being able to utilize my brain in some sort of intellectual way. Usually, my down times I am in recovery mode, looking for my next cup of coffee, trying to remember if I brushed my teeth that morning, and debating if I have enough time to get a shower before the baby wakes up.
But thankfully, we didn't suffer too badly with the flu, it was just more of an inconvenience to the plans I had made this month, but we are close to getting back on track. Now, if only this weather would brighten up a bit!
Currently, I have been working on revitalizing a few homeschool things. We usually get the homeschool blues around January/February, ready for the summer to get here. So, I usually spend this time, reorganizing and planning out some fun things to do with the kids to reenergize the school year. In addition to that, I have to reorganize the mess of homeschool every January/February to be sure we finish out the year strong. That includes a lot of filing and organizing my paper systems. With Five kids it is hard to remember everything, so I MUST have systems in place, and I MUST stay organized.
Most recently, I recreated a new or nicer report card while I was imputing grades to place in my folder that I keep for legal reasons. Until now, I've just been creating plain printouts of grades, I've tried a few different ideas that I've viewed online, but this time I decided to take a few minutes before the end of the year to design my own. It might not seem like a big deal to anyone, but for me, I like things to look nice. So, I thought I'd share my design with Y'all, for you homeschool mamas. If you'd like, you can also download the basic image (minus most text and school logo) here, to utilize for your own homeschool. (just add your own text and logo if want) It's not much to look at before text, but If anything, feel free to use my idea.

*I also use a different block color for my mid-year reports.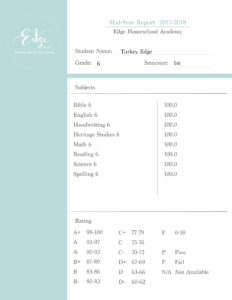 *I took a few minutes and also created a homeschool logo to print on the left side of the image. I did these in Photoshop. It didn't take me long to design, and it's not absolutely needed to properly homeschool, but it does look a lot prettier. 😉
*FYI- My kids did NOT make 100% in every subject. These were edited obviously. ;)..jus' sayin'.
SaveSave
SaveSave
SaveSave
SaveSave
SaveSave