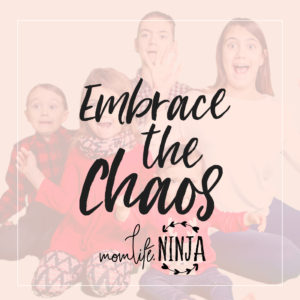 I see you mommas. The moms who are fighting and trying to corral their two kids, while I seemingly wiz by with my five in tow. I see the frustration on your face. I remember days like that all too well. Please understand that as I wiz on by, I am not judging you with your one or two. I'm just getting out of the way before the bottom falls and my seemingly well-behaved kids erupt in their own type of chaos. I don't think any mom of many kids really feels any kind of judgment on other moms. If they do, I hope they are just simply trying to justify what they are doing themselves, as I don't think any of us REALLY know what we are doing. I know there are mothers out there who judge what you are doing, but I stopped worrying about those mothers years ago. Or those teenagers, or that annoyed college kid, or that newly married couple, or that older couple who got to raise their children in a different era.
I have often times wanted to say to other moms who look frazzled, "Don't worry. You are doing a good job" But unfortunately the few times I have tried, most seem to take it as if I am insulting them rather than trying to encourage them. And I have to admit myself, that at times when other mothers said it to me, it felt more like an insult from a passerby than any form of encouragement. Like they were joking, because…obviously… I didn't have it together and I was NOT doing a good job. At least that's what I thought.
But there is something that I hope you would understand, is that the chaos you are in isn't something to be afraid of. I think it is something to embrace. It is the chaos that teaches you. Like trial by fire. It is the Good stuff. It is the stuff that you will remember the most. When I look back at the times I've had with my kids, it is that hard stuff that makes me feel more like a mom. Not the cutesy stuff. That cute stuff is wonderful and all. Like icing on the cake but at the end of the day, it's the tireless hours and the hard work I put into my kids that truly make me feel like a good mom. Even if I did some of it wrong. It is the hard stuff that taught me most and it is what I am most proud of in my children when I see them emulating that hard work with each other. When I see my daughter getting up in the middle of the night to lend a hand to her brother who is vomiting. Whenever they see the chaos and just dig in rather than be afraid of it or overwhelmed by it because they see me choosing to tackle it rather than be defeated by it. That's stuff is the good stuff. Don't let it overwhelm you. Treat it as though you were already waiting and ready for it. Expect it. Don't wish for it to go away or to never happen. That way of thinking will always leave you in defeat.
And yes, you will at times feel defeated by it. But it will be ok. The chaos can be overwhelming, just set your eyes on God, dig in, and tackle one thing at a time. You will get through it, just in time for the next chaotic moment to hit. Just don't take your eyes off Christ. You won't make it through without Him (or at least without deep scarring.)