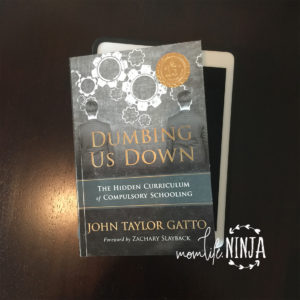 Dumbing Us Down by John Taylor Gatto
MomLife.Ninja Book Recommendation
A few years ago, before I first started homeschooling, I'm not so sure I would have agreed with some of the ideas within this book. My own public-school education gave me many reasons to possibly disagree. It wasn't until I began homeschooling before I would learn so much more about how to actually educate a child. It is with homeschooling that I've come to realize how different each child learns and how that greatly affects what they learn. After some painful realizations of homeschooling, I would say this book is one of the most interesting books outside of my bible that I may have read lately. (and this is not a "Christian" book) I wouldn't say that I would agree totally with everything he mentions, but I have never read books solely based off of my need to agree with someone on everything.
This is a book I would highly recommend to anyone. It is not just for the parent who has school-age kids at home, it is also for the adult who was educated and sits around wondering what is up with our country. Not only does Mr. Gatto mention how government-led education is backwards from everything we actually know about educating a child, but he also brings to question how it affects society, community and most importantly – the FAMILY.
It is in my opinion, as a now homeschooling mom who once couldn't wait to be separated from her children to the school, that the Family has suffered the greatest loss. Every summer before school I see how families are exhausted and can't wait to get their children back on that big yellow bus, but I'm telling you- when you homeschool, all of what you think would be your life, changes to something else. I believe people are missing something they have no idea they are missing out on. And it's hard to imagine it. I know. I've been there too. And it takes time to see it from a different perspective even after you first start homeschooling. It's a tough road. But In my opinion, your family and kids are always worth it regardless of what it may cost you.
As a busy mom, I would also like to add that this book is only 120 pages long. It is not a difficult read. In fact, I read half of it while walking around supervising my kids and a toddler literally under my feet. It only took a couple of hours to read with kids around, so if you are a busy mom and looking for something to read this summer-Give it a try!
SaveSave
SaveSave
SaveSave
SaveSave