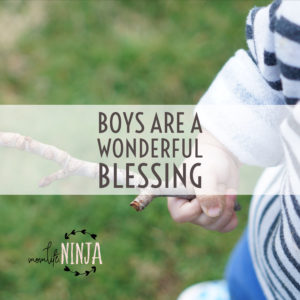 It would be wrong of me to tell you of the Joy of the blessing of Girls, without also telling you the joy in the blessing of boys. I would never make the claim that one is greater than the other. They each bring unique joy to a mother and should never be considered greater or lesser. I find it crazy that anyone would consider otherwise. It amazes me how the world struggles with this concept.
In my last post, I mentioned how my girls show the most reciprocal love. I mean this more so in the sense that they show the most affection. My boys show reciprocal love differently. They are not as physical in affection; however, they still show love that could make any mother's heart gush.
Boys Encourage Their Mothers
My boys, while maybe not as physically affectionate, are great at encouraging me as a mother to push myself. My boys have an energy for life that tests me to keep up with them. They are a reminder to me to pull myself up at times because so much of life is left to be lived. They are not without emotion, but they don't get as caught up in emotion as I and my daughters sometimes do. Much like my husband, they keep moving.
There has been nothing sweeter to me then to watch my young boys grow from baby to boy and continue to grow into young men. Sometimes it scares me to watch it go so quickly. They have so much to learn and I have so little time to teach them. It is a tough world that they will have to navigate. So at times, I find myself being hard on them, but they handle it much differently than my girls do. This encourages me. They have a different type of confidence as a boy. I do my best to teach my children equally to have confidence in their abilities, but my boys have never needed as much coaxing as my girls do. They have a drive that has always been different and with this, they give me confidence much like the way my husband's confidence encourages me.
We Work Best Together
I believe fully that together, men and women with all our differences, work best. It is a matter of understanding the differences. My boys and my girls are different, and they are different from one another. IT is something to find joy in, not to despise. God made us so very different and for a good reason. Their differences are what brings me so much joy as their mother.
see also: Girls are a Wonderful Blessing