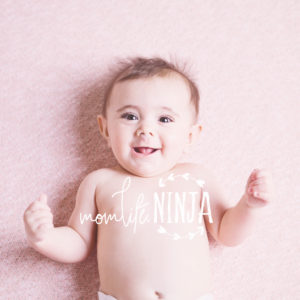 It's a sobering thought sometimes as I sit and stare at our little Joelle while I rock her to sleep, that if Julianna didn't pass away or if we hadn't had a miscarriage following her birth and death, that I may not have been sitting here holding on to our little Joelle.  She may have never been.  The thought that someone so special and so sweet, handcrafted by God and perfect in her own little way, may have never had her chance to make her little imprint on my heart.
Holding Joelle is a constant reminder to me that God must know what He is doing and He loves to give in abundance, as I realize that I was asking Him for one child and He gave me three.  I may have only the opportunity to spend more time getting to know our little Joelle, but I truly believe there will be a day when I will get to know my other children who have passed and If I wasn't accepting of life, I would never have the chance to know them.
I try to remember that I'm not just living for this life, but for the life that continues on past death.  The children I didn't get a chance to know here, I will have that opportunity later.  They are still a blessing, even if that blessing ended in the painful yet temporal breaking of my heart.  There is still a purpose for them, even if it's a purpose on the other side of heaven.
So, while I sit here and stare at my little Joelle, I continue to understand better than I ever have about how special she really is.  Not just to me, but to God.  When we look at our children and call them a blessing, we have to recognize that the blessing of children is not just a blessing to us as parents.  The blessing is also God's blessing.  A completion of Love.  God blessed so that He will be blessed.  That is the real blessing.
The blessing of children is not just a selfish blessing only for me to have.   God used me (who was willing of life) to give himself-HER.  So that He may bless himself with another precious gift and I get the great honor and privilege to partake in that blessing and to also be blessed by it myself.