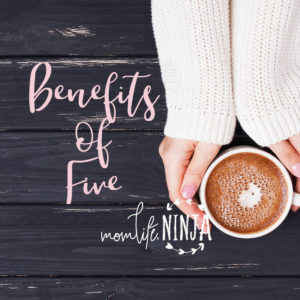 I'm pretty used to it now, the eerie change in demeanor whenever you answer the poor unsuspecting stranger who dared to ask the question "How many kids do you have?". Everyone asks it so easily, so gracefully. Just a normal conversational gesture of greeting. But most freeze momentarily from the answer they receive -"five". Like deer caught in the headlights, never expecting the weird outlandish language that befalls their unguarded ears, before they mutter out something like.. "oh… well, that's a handful…"
It doesn't bother me one bit. It's rather quite funny. I love the sudden change from polite conversation to an uneasy look that borders along, should I say fear?..
Yes, I have five. Five Kids. Yes they are all mine, and No I was not a teenager when I had them.
I know its shocking. And YES they ARE a handful. However, to be fully honest, having five has been easier in many ways then when I had 3. That's the part that's hard to help other people understand. Now, except for a few cases such as getting everyone out the door, dressed, brushed, clean, potty-ed, and on-time, Most daily life happenings are typically easier than they were when I had three or even four at times.
The benefit I have with five over three is the benefit of older children. As my children continue to age they take on more responsibility and are also more efficient at some tasks. And out of necessity, I have had to force myself to teach my kids to be more independent for themselves. My children regardless of what society might want you to believe, LOVE taking care of our baby girl. They fight each other over who gets to hold her, feed her, rock her to sleep, and while I sometimes don't like to give up those precious moments to anyone, it does provide me more opportunities and many more breaks than I ever had before. Especially compared to those early years whenever everyone was a baby and momma had to be everything for everyone, most often times, all at the same time.
Being a mom of five has also taught me more about how to let small things go, how to expand my patience levels, how to find peace in chaos. Those things didn't come easily either, in fact they were EXTREMELY painful to learn, however, because of the chaos you live in, you are forced to find a way to make it all work. You are forced to become more disciplined. And Being more disciplined in my walk with God, taught me how to be more disciplined at home. I'm still a walking mess, but because of God, I'm still walking.
If you were once looking to have a large family and you find yourself drowning with only a few, just remember, this too shall pass. It will get easier, and one day you will look back and miss some of those moments. You will figure things out. It's kind of a natural order of things. And every hard time only teaches and prepares you (if you utilize the experience properly) whenever or if ever you have more children. Don't let your current situation cause you fear.
So, I raise my lukewarm cup of coffee to you moms of one, or two, or however many you are blessed with. With a nod of my head, – I see you. Just keep swimming mamas, and be sure to open up your bibles any chance you get, it will get easier.