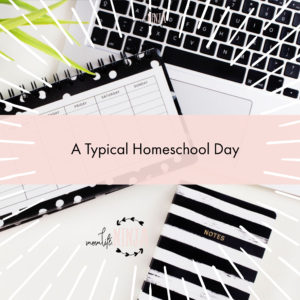 What does a typical homeschool day look like in our Household?
In our house, no day is exactly like the next, but there are a few very common similarities. Whenever we have a baby in the house, the day doesn't start until the youngest is awake. (and mommy is mentally prepared.). This is harder when we have newborns, but we make it work even if we start school at 10 am because mommy needed a morning nap. In those cases, my kids have instructions of doing quiet work until I'm awake and ready. In our current case, (as of lately) our youngest gets up around 730-830am. (She's a night owl like her mama)
Morning Routine
At 8ish in the morning, the kids come down and Eat breakfast. Our oldest daughter will on occasion make breakfast. Otherwise-its cereal, fruit, waffles, a frozen breakfast sandwich or wrap. Only on occasion do I make breakfast. Having a daughter who loves to cook has been a crazy awesome help for me!
After breakfast, the kids will clean up, get dressed, brush teeth, make their beds and clean up their rooms. If our living area is a mess, we clean that up also. I find that I focus better if my house is in a decent order. I have tried to let it go but taking 10-15 min to clean up before school work is a much better way to start the day for me.
School Starts
This leaves us starting school work around 9 am. (sometimes we start at 8-830. Again, it depends on when the youngest is awake. I DO NOT wake a sleeping baby- its taboo around here) (the older kids will sometimes start their schoolwork quietly after they get up before they are called down for breakfast- usually, they are doing Bible work or studying for a test. I leave this option up to them.)
For the next 3-4 hours, we work on school work. We take turns playing with the youngest. Every day is different for her, some days she entertains herself, other days she is extremely cranky. This extends out some of our school day, but my kids like having a break from school work to play with her.
Lunch Break
At around noon to one, we will break for lunch. I have recently given this area over to my daughter. She likes to cook, so I am attempting to teach her how to create a meal plan and make lunches other than sandwiches and frozen foods. (Home Ec class) I used to have more reign over lunch, but I feel confident that she can handle it this school year.
After lunch, the kids will clean up. We will then take turns putting the youngest down for a nap. (around 2 ish) When she goes down, my other children either play outside or they do quiet things in the house. (like play legos or more currently- sewing). I usually only allow about 20-30 min for a break, unless it is nice outside and they are playing well with one another. Then we go back to school work to finish up the day.
Usually, the kids finish within the next hour or two- depending. (on some occasions they will finish by lunchtime)
After all school work is done and the homeschool room and desk areas have been picked up, I let them play.
Mom Break
At around 3 pm, I personally break from my own school duties. (unless I have a test to grade) 3 pm is my coffee break time. I will usually grab a cup and sit down to read my bible if I didn't have time earlier in the day. I personally need the mental break. If the toddler is awake I will have one of the kids watch her for 20-30 min while I take my break. (they rotate who does this each day)
After my break time, I will check to make sure all schoolwork is done, tests and papers are graded, rooms are picked up and the house is in decent order. Usually, we will all spend about 20 min cleaning before my husband gets home. The rest of the day is focused on any schoolwork that needs corrected/fixed, projects, chores, golf lessons, errands, Dinner etc. I will also spend some one on one time with the little munchkin while everyone is playing or finishing up school.
And there you have a typical Homeschool Day for us. It's nothing fancy. It's simply what is working for us right now. Our "typical" day changes throughout the year, seasons, additions, etc. No day really looks exactly the same.