So what does any tired mother of five do right before the Christmas Holidays? We get a puppy of course!
Meet the Newest member of our family.
This little girl is an Aussiedoodle pup. She is half Australian Shephard and half mini poodle. She's a cutie and so far seems to be a good little pup. We believe she will train fairly well. Something this mother is really happy about.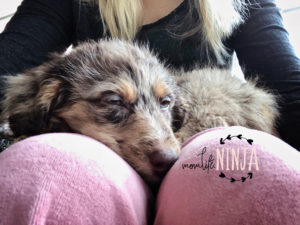 And in case you are wondering, YES- training a dog with five kids (one of those – a toddler) is going just as you would expect it to go.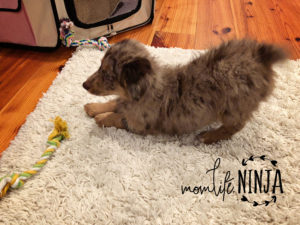 All and all though, it hasn't been the worst. The hardest part for me so far is not only working on training a pup but also training 5 kids to train a pup. They are starting to all get a little better now. Thankfully though, I have a lot of helpers to CONSTANTLY take the pup outside for potty breaks.
It's been a little busy around our home lately, but it has been a good busy. I know adding a dog to our already busy lives seems unwise, but I really believe bringing a new dog into our family will be beneficial for our children. And we have missed having a pup around since our sweet Nikki passed three years ago.
And just look at those eyes and that little face… We think shes' worth it! 😉