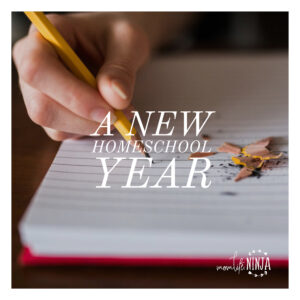 With every new homeschool year there will come alongside it new problems. Every year that I've been homeschooling, I start out with excitement and eagerness. But after the first week I grapple with moments that make me question my sanity for ever having considered the idea of homeschooling my husband's spawn children.
I thought it was something I would have gotten over by now. (the questioning of my sanity) However, it is always the first few weeks (and then the dull, slow part during the end of the year) that I struggle in this area. I am completely sold on continuing to homeschool; however, I have those moments where I dream of a happier looking version of myself, holding a HOT cup of coffee and placing my kids on a big yellow bus.
I know it's an unrealistic dream, (for one year I put my son on a yellow school bus and those mornings were nothing at all like my vision.) But I dream them anyway. Yet, most often times, that dream of sending my kids to school is easily fixed with a quick scroll of my daily news feed. And crazily enough, it has nothing to do with school shootings that keep me thanking the Good Lord I still live in a country that will allow me to homeschool my children the way I deem best for them. (at least for now)
After that small quick trip to my own selfish version of DreamTown, USA , I come back to reality. The first weeks are hard. Mostly because the kids have to establish a new routine according to what the teachers require in their schoolwork. It only takes a few weeks to get them and myself used to the new textbooks, requirements and encouraging behavior to ensure they take learning seriously.
However, on the opposite side of that. One of the few things that I greatly enjoy, are the many moments in the day that we can sit and talk together related to what my children are learning as they are learning it. I get the joy of watching them learn new things daily, I get to watch my children's face light up when a toddler comes to their desk to see what they are doing. I get to watch my older kids help the younger ones read, write, and understand their schoolwork while encouraging each other along the way.
In the first week alone, we have also probably spent an extra hour or two more time talking together, learning how the bible relates to their lessons. Anytime I discuss with any of my kids something bible related, they all stop doing their schoolwork, listen and enter into the discussion. It is time I can't makeup anywhere else. By homeschooling I can actually talk to them about their bible – when they wake up, when we walk along the way, until the time we lie down at night. It is very precious time and as my oldest child is now a high schooler, I am learning all too well how quickly that time passes.
Remember, try to enjoy the time with them, even though it can be tough. Some things WILL get easier, but realize that somethings might always be difficult. Try not to let those difficulties cause you to stumble. They will always be there, they simply change form.